Welcome
Thank you for visiting Ruffini Construction - your source for quality and excellence in all of your home improvement projects.
We have built and sustained our business on the fundamental values of
Honesty

Integrity

Fairness

Accountability

Excellence.
We are dedicated to providing our clients with a high quality product and a level of service that is second to none.
Why Ruffini Construction?
Ruffini Construction has been providing quality craftsmanship since 1978 to homeowners throughout Massachusetts. From the North Shore to the South Shore as well as a 100 year-old shingle-style home in Cambridge that belongs to Bob Villa.
Click the links below to see Danny working on Bob's home: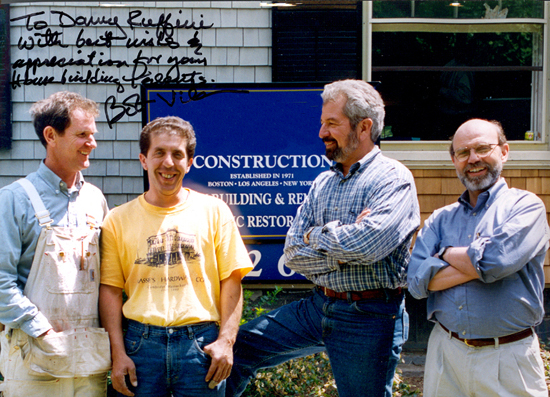 Danny Ruffini (second from left) pictured with the cast of Bob Villa's Home Again.
---
"To Danny Ruffini with best wishes & appreciation
for your home building talents."
Bob Villa
---

Contact Us Today!
Ruffini Construction provides free estimates and Senior Citizen discounts. Contact Danny today for your home improvement, repairs or emergency services at 617.429.6411.

Contact Us